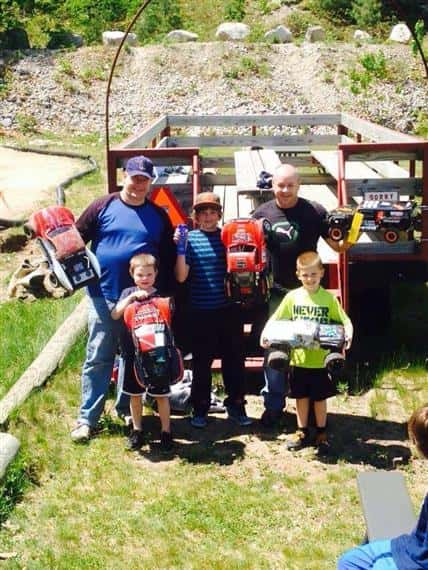 June 2022
RADIO CONTROL/REUNION WEEKEND, June 3-5
We'll be full of surprises!! You show us what you can do! This is the time for you to strut your stuff!!! We can't wait! Bring Boats, Planes, any R/C welcome!! We'll also have FREE Firetruck Rides, and more! Check out our "Dirt Course" or cars/trucks/bikes. And don't forget: we'll have plenty of Delicious food Specials! Surprise your kids or that special someone with a fun weekend at Acres of Wildlife. Don't tell them ahead of time you're camping! Early Set-Up
Thursday (FREE!) so you can come here straight from picking up your kids or that special someone on
Friday and sur-prise them. (Please call ahead for arrangements.)
SHOW OFF YOUR DOG WEEKEND! June 10-12
Your dog is priority this weekend! No pet fee this weekend! We'll have our Annual Acres' Dog Parade. Then, show off ANY Talent your dog may have at the "Pet Tricks/Talent Show!" And dress up your dogs with their favorite outfits for the Runway Walk. Also a groomer will be on hand to trim nails. Also have fun with Kayak Races, Zoom Candy Bar Parlooza, Tye-Dye TShirts($),FREE Firetruck Rides, and more.
FATHER'S DAY WEEKEND, June 17-19
Last Weekend of Spring Season rates. Dad's weekend of family fun with your kids. Lots of yummy baked goods! FREE Firetruck Rides, Family Bingo, Family favorite Candy Bar Palooza, Tye-Dye T-Shirts ($), Family Karaoke at our Chub Pub (come sing with Dad!). Loaded with Acres of Wildlife Family Favorite Activities!!
FAMILY WEEK, June 25 - July 1
We're all about having FUN with you and your Family! Come join the fun! We'll have a Bubble Gum Blowing Contest, a Hula Hoop Contest, Washer Toss, Kayak Races, FREE Firetruck Rides, Wet Hayride, Frozen Slingshot, Family Games, Arts & Crafts ($), Bike Rodeo with Drag Race. Bonfire, Team Mini-Golf ($), lots of Bocce Ball and Cribbage Tournaments.